This is a little questionnaire with which Simon from Stuck in a Book came up last week, to provide a little snapshot of one's reading. So let's see what my books are…
1) The book I'm currently reading
Cornelius Medvei, Caroline (2011)
The story of a man who becomes smitten with a donkey. I'm not yet far enough in to be able to form a useful opinion, but it has started off well. I'll be reviewing this for Fiction Uncovered in due course.
2) The last book I finished
Leo Benedictus, The Afterparty (2011)
A tale of tragic happenings at a film star's birthday celebration, wrapped in the email correspondence  between a fictional author and his prospective agent, discussing the very book in one's hands. This is probably the most self-referential book I've ever read, and to be honest I wasn't sure whether I'd get along with it. The Afterparty turned out to be a delight, though: nicely written, and a smart commentary on celebrity culture and the gap between public perception and private reality.
3) The next book I want to read
Katie Ward, Girl Reading (2011)
So I'm reading a lot of 2011 work at the moment. Girl Reading is structured as a series of novellas on the painting portraits of girls and women reading. It seems an unusual subject for a debut novel, and I am intrigued.
4) The last book I bought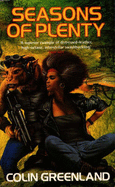 Colin Greenland, Seasons of Plenty (1995)
Strictly speaking, the last book I bought was The Afterparty, but I want to list five different books here; so we'll go for this — which was on the book-swap shelf at work, instead. I loved Take Back Plenty when I read it last year; now I'll get a chance to see what the sequel is like.
5) The last book I was given
Ian McDonald, River of Gods (2004)
This was a birthday present, which I was very grateful to receive. My introduction to McDonald, The Dervish House, was one of the very best books I read last year. River of Gods comes with a very high reputation, and I look forward to seeing if it lives up to that; I am confident that it will.
***
There we go. That was quite interesting to put together, and actually it's not a bad encapsulation of the kinds of books I most like to read. Speaking of which, I have at least two books to be getting on with, and plenty more to follow after that…